Every wedding party is a chance for you to express your own personal style, and a great way to do that is with fashion jewelry.
It's hard to beat the combination of a classic suit and a splash of modern style with the perfect piece of men's jewelry.
Whether you want something traditional with a hint of sophistication or something bold and unique, the options are endless when it comes to men's fashion jewelry.
Now let's explore some great choices for men's fashion jewelry to add a layer of class to your wedding party.
How to Style Men's Fashion Jewelry for a Wedding Party?
Wedding party invitations are the perfect excuse to wear luxury jewelry. One example is luxury mens jewelry by Versace which is lead and nickel free, and hypoallergenic. Men's jewelry must include a watch, some like it classic and sophisticated, while others prefer it casual.
Wedding rings go without saying, but don't forget about any other rings you want to wear. A simple gold band looks great with any outfit, while a diamond ring adds some extra sparkle. Unmarried? Consider wearing a friendship ring or family heirloom instead.
Also, accessories make a difference. A tie clip or pin can spice up your look, while a money clip is functional and stylish. Cufflinks are another way to add some flair, and they come in all sorts of designs for every taste.
#1 Necklaces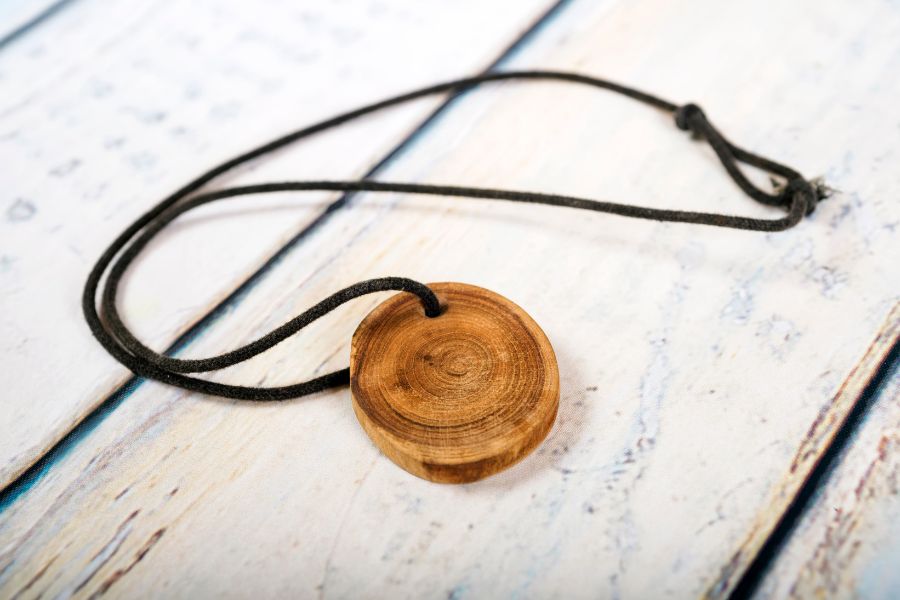 The right necklace can add a touch of elegance and sophistication to a groom's attire, express the couple's shared values, and reflect their personal style.
Gold, silver, titanium, or leather are popular materials for men's necklaces, and they can be embellished with stones or beads. You can pair a silver or gold chain with a tailored suit for a more sophisticated look, while a leather cord necklace with a crystal pendant could add a bohemian twist to a casual wedding outfit.
A lot of men add meaningful symbols or charms to their necklaces, like religious iconography or personal engravings. A well-made necklace can brighten up a groom's wedding look and serve as a wonderful keepsake.
#2 Bracelets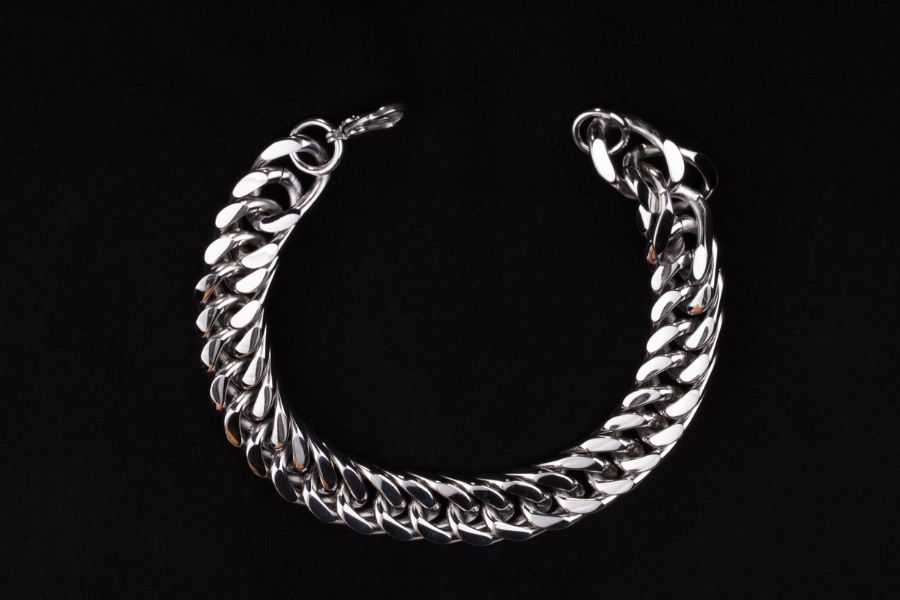 When selecting bracelets, it's essential to pay close attention to the type of metal used in the bracelet and the clasp design to ensure durability and comfort.
The most popular materials for men's wedding bracelets are leather, silver, and stainless steel.
Leather bracelets can add a rustic and masculine touch to the wedding attire.
Silver and stainless steel create a sleek and modern look.
A thin metal chain bracelet with a small pendant or charm adds classic style.
A cuff bracelet or bangle in an on-trend material like leather or wood is sure to catch the eye.
Beaded bracelets feature vibrant colors and intricate designs that can work for casual and formal weddings, and you can customize them, too.
We recommended choosing bracelets that are not too flashy and are suitable for everyday wear.
#3 Rings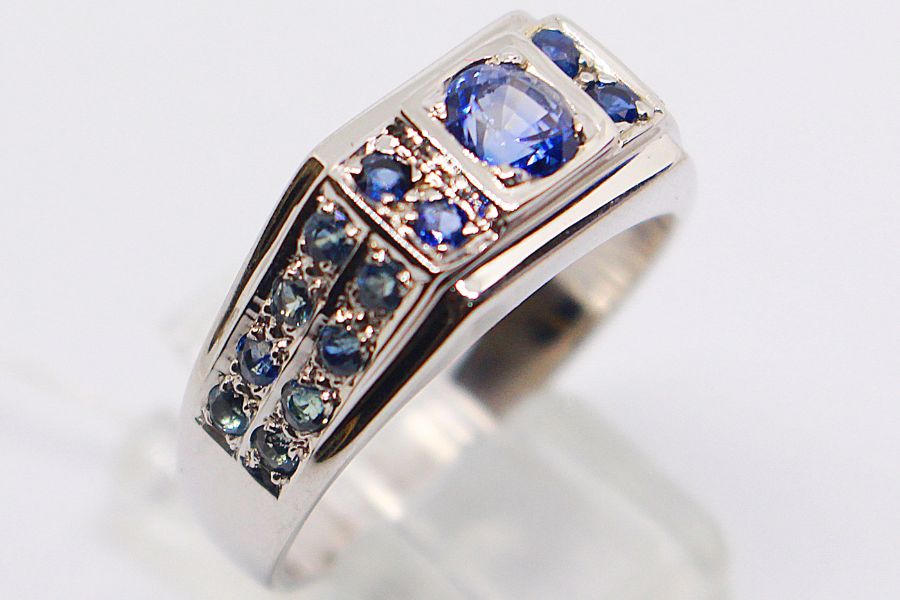 Symbols of commitment and love, rings aren't just for women anymore. There's a wide variety of metal choices, styles, and brands of men's rings to choose from.
Choose a ring based on its design, metal type, and size. Traditional gold and platinum offer a classic look. At the same time, tungsten and titanium are perfect for active men with an eye for design. For men who love simplicity, a classic silver or platinum ring with a simple design works great. But if you want something flashy, a ring with etching or stones is also cool.
Make sure the ring fits well and is comfortable – you don't want it slipping off your finger during the ceremony!
#4 Lapel Pins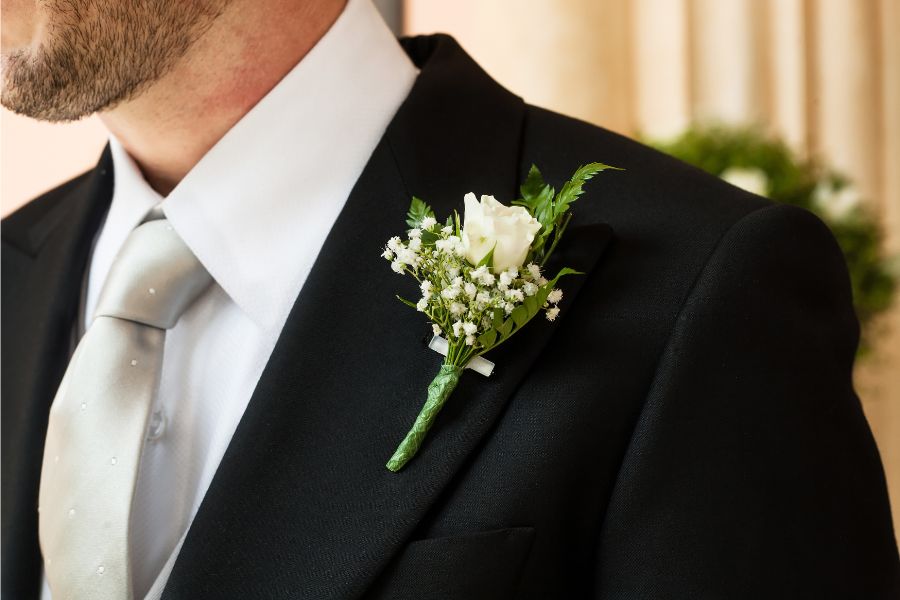 You can add a little flair to your suit or tuxedo with a lapel pin. This tiny piece of jewelry sits on the lapel of a jacket or blazer and accentuates your style.
From classic to quirky, lapel pins come in all kinds of styles. You can get them in metal, fabric, or enamel.
Popular floral pins come in a bunch of styles and designs that you can wear alone or stack for an edgier look. The classic boutonniere is another option, usually a single flower or a small cluster attached to the lapel.
A pin that reflects your personal interests or the wedding theme, like your favorite sports team logo or a cultural symbol, is also a good choice.
Make sure the pin matches the wedding attire. Metallic pins usually go with traditional suits, while floral and fabric pins go with more relaxed looks.
Consider the wedding colors and your suit. Silver or gold lapel pins work well for black suits, while navy blue suits look great with navy or burgundy lapel pins.
The key is to pick something that fits your wedding style and adds a little flavor to your party.
#5 Watches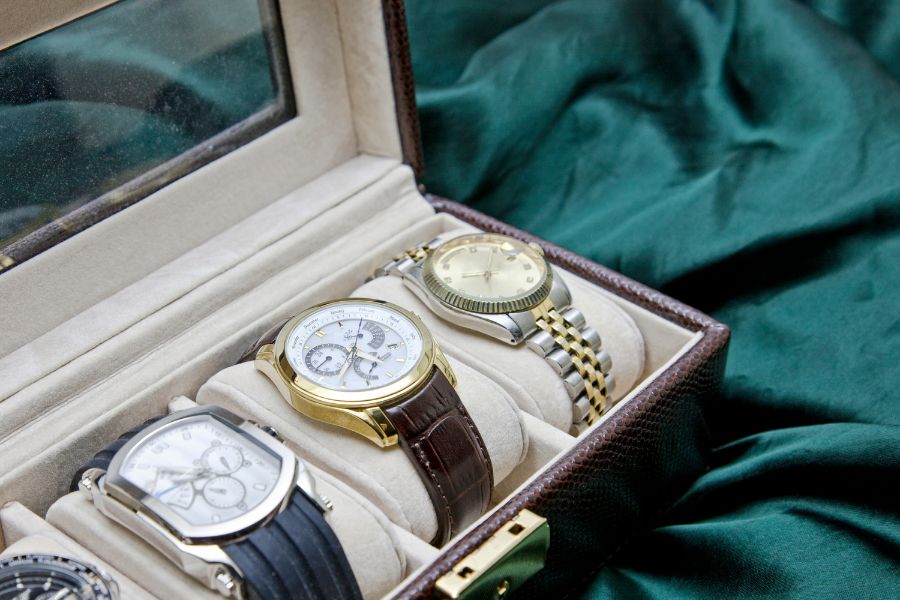 Watches are great men's fashion jewelry, especially for weddings. The right watch can make a big difference in the groom's overall look, and it's something he'll keep forever.
Dress watches are great for formal weddings, thanks to their simple but elegant designs. For a more modern look, a minimalist watch with a leather strap is a smart choice. A sports watch or chronograph adds a rugged and masculine touch to an outdoor or casual wedding.
Consider the face of the watch – a simple, uncluttered face works for formal events, while a more complex face is better for casual events.
And finally, pick a watch that matches your personal style and budget and looks good on you. Rolex and Cartier are two popular luxury brands, while Citizen and Seiko are more affordable options.
How to Care for Your Jewelry
Men's fashion jewelry isn't hard to care for, but keep these things in mind when choosing the right pieces. Here are a few tips:
Choose quality over quantity: Buy a few well-made pieces instead of too many cheap ones that will fall apart.
Rotate your jewelry regularly to prevent excessive wear and tear to your jewelry as time goes on.
Always remove your pieces, especially gold or silver, before engaging in any strenuous activity or sports.
Be kind to your jewelry: Your jewelry needs proper care, just as any other item you own. Clean it regularly with a soft cloth and store it safely when you're not wearing it.
The bottom line
As a guy, you can absolutely wear formal jewelry to a wedding, whether you're wearing a suit or a dress. But these days, men's fashion jewelry is more popular than ever. There's a whole world of men's jewelry out there, and you can find everything from bracelets and necklaces to rings, watches, and cufflinks. So if you're looking for a great piece of jewelry to wear to your wedding, let these ideas inspire you.