First impressions matter, particularly in business, which is why the right accessory can speak volumes about your personal style, professionalism, and attention to detail. Browse Von Baer's top picks for luxury leather briefcases from the high-end leather accessories brand Von Baer, including business briefcases and laptop bags.
Best High-End Leather Briefcase
The No.1 is a strong briefcase for those who want to make a statement. It includes a spacious triple-gusset design, a dedicated laptop sleeve, and just the right amount of internal pockets. It's made from the highest quality full grain Italian leather, handmade in Florence, Italy.
The detachable shoulder strap is excellent when moving between meetings, and the lockable main compartment helps to keep important tech and documents secure. The bag is ideal for business professionals, lawyers, accountants, and anyone else looking to make a strong statement. It is available in brown, tan, or black leather.
Luxury Laptop Bag
The CITY laptop bag is luxurious and modern, allowing it to fit perfectly into both a professional and casual setting, so you can use it all day, everyday. Made from full grain Italian leather, it will develop leather patina over time, adding to the bag's unique character. It comes with a detachable shoulder strap, and can be personalized with a laser engraving.
Slim Profile Work Bag
The Exquisite has a really slim profile, which is ideal for those who want a more sleek and understated briefcase. Despite this slim design, it still has a dedicated 14 inch laptop compartment and a large internal section with extra zipped pockets. It comes with a detachable shoulder strap, and can be personalized with a laser engraving.
Modern Leather Laptop Bags
For something a little more contemporary, consider the Essential and Elegant laptop bags shown below:
These bags combine the traditional full-grain leather material with a modern design. They are ideal for those in creative industries, or who don't want to appear older than their time.
Business Garment Travel Bag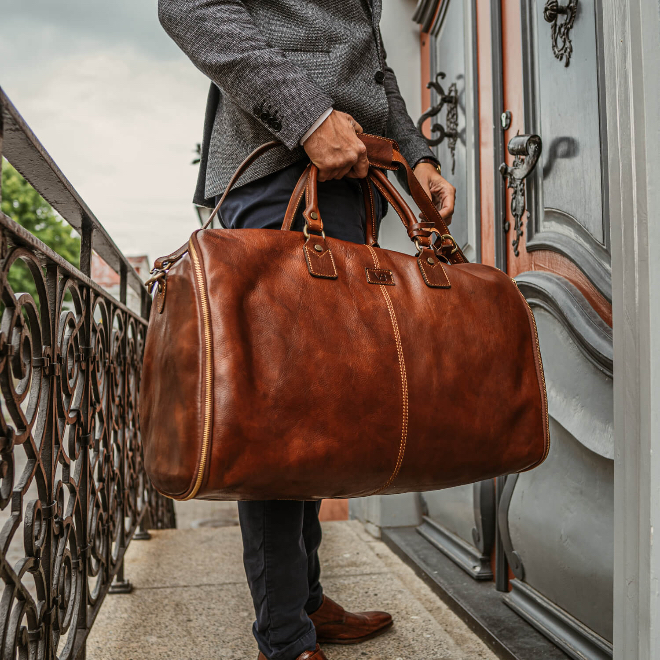 The Grand is ideal if you want to get changed at the office after your commute; or carry your suit with you on a business trip.
 It's a Duffel-style leather bag with a built-in garment bag, allowing you to zip up your suit inside the bag lining to prevent creases, while still having a carry-on size-compliant bag for the rest of your things.
Why Authentic Italian Full Grain Leather?
There are many reasons to choose authentic Italian full-grain leather:
Quality and Durability – Italian leather is well renowned for its high quality and exceptional durability. Full grain leather, in particular, is the top layer of animal skin, and so is incredibly strong and long-lasting.
Craftsmanship – Italy has a long-standing traditional of artisan craftsmanship, and they are well respected for their ability to make handmade goods really well.
Timeless Style – Italian leather products never go out of style, offering elegance and sophistication that's a symbol of luxury.
Unique Aesthetic – the natural grain of full-grain leather products keep the imperfections of the skin intact, giving each accessory a unique look.
Leather Patina – over time full-grain leather develops a wonderful pattern called leather patina, further adding to the unique story of your bag.
How To Tell if Leather Is Real?
The best way to tell if leather is real is to read the authenticity label. All real leather products should be able to certify where the leather came from. For example, Von Baer bags include a certificate of authenticity with the trademark Pelle Conciata al Vegetale in Toscana to show it's an authentic product made from Tuscan (Italian) Vegetable-Tanned Leather.
What Makes a Good Briefcase?
A good briefcase should have the following characteristics:
High Quality Leather – it needs to be made from high quality, full grain leather. This ensures it will look professional for many years, unlike cheaper or imitation leathers.
Stylish – the briefcase must be stylish, but also match your personal style, so it looks right with your favorite work outfits.
Practical – finally it needs to be able to carry your work essentials without bulging or becoming too difficult to carry. If you carry a laptop, it needs a dedicated laptop compartment.
For more on the latest in style, click here.