No watch brand has ever put more effort into delivering a yellow case than Hublot has with its Big Bang Tourbillon Automatic Yellow Neon SAXEM. The first watch in the world to use a case in the SAXEM composite in yellow, the Big Bang Yellow Neon took three years to develop, and this is just to get the material properties right. If you know the material wizards at Hublot well, you will recall the debut of SAXEM for the brand in 2019, at that time in the Big Bang MP-11 watch, which was basically green. The obvious question is why so long? Well, to answer that question, we have to understand what SAXEM is, and then the general trend in fine watchmaking towards more colourful expressions. Basically, the watch is made of the stuff of solid-state lasers!
Hublot definitely believes in embracing the 'fun' in function. For this story, we are zooming in on this watch, which is Hublot's standout. Just going on looks alone, it outshines virtually anything else — we recommend pairing this watch with an all-black ensemble for maximum effect. The colour here is a function of the precise mix of rare earth metals that combine with sapphire crystal (or aluminium oxide if you want to be a little more precise). This is just like what happens with sapphires in the wild — they get their colours from metallic impurities in the crystals. Hublot has used its research and development chops to create something nature does not. No other brand in watchmaking, Swiss or otherwise, is using this material, although we feel like the new coloured sapphire crystal cases from Louis Vuitton must have benefitted from the R&D here.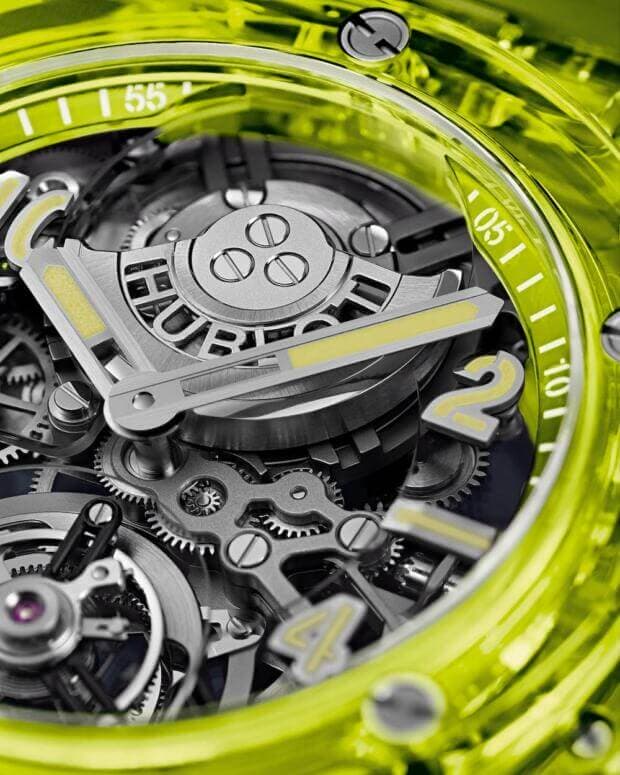 The signature fluorescent neon yellow here is a result of tiny amounts of lutetium added to the sapphire crystal, as we learned from the product development team. For the previous emerald green SAXEM, the rare earth materials included thulium, holmium and chromium, which is not a rare earth material but not every component element is. The watch is still transparent and as scratch-resistant as any sapphire crystal, which is something Hublot does not compromise on. In terms of brilliance, always a concern for materials such as sapphire, Hublot contends that SAXEM is even more brilliant. Other than the colour, this SAXEM material is marginally weightier than regular sapphire crystal, to the tune of 10 per cent. Like all sapphire crystal cases, this one will crack and possibly shatter if you expose it to strong forces at certain angles.
Within the watch, the automatic HUB6035 calibre returns once more, with its distinctive micro-rotor and tourbillon, as you can see. New with this model is the textured rubber strap, also in neon yellow, that was developed specifically for use here. Nevertheless, the manufacture is using its One-Click interchangeable strap system so you can get other options from Hublot.
MOVEMENT Automatic HUB6035 with tourbillon and micro-rotor; 72-hour power reserve
CASE 44m in SAXEM; water-resistant to 30m
STRAP Yellow rubber
PRICE S$296,900; Limited to 50 pieces
For more watch reads, click here.