The new Helmut Lang makeup looks have a nostalgic feel to them. And you'll especially love the small touch of logo nails, spelling out H-E-L-M-U-T-L-A-N-G on each finger, with clear polish – the new Helmut Lang manicure. Peter Do's debut collection for Helmut Lang Spring 2024 was inspired by the 90s. It was a mixture of the optimistic hustle energy of NY and nostalgia.
Do's show notes featured an original piece by Vietnamese-American poet Ocean Vuong declaring that "We were not born to die, we were born to go." For go-go beauty looks, models wore a blend of 90s polish mixed with punky rawness, a nod to the brand's heritage, without being too referential. "He has lots of ideas!" said manicurist Jin Soon Choi. Choi, Do's manicurist, spent several weeks in her laboratory creating custom shades of nail polish. Do showed her references including swatches pink and geranium and vintage Ubers or taxis. The shades were so new that Choi hadn't even named them yet. The taxicab mani used the mustard-yellow base with abstract stripey swipes in black (JINSoon's Absolute Black), and white polish (JINSoon's Absolute White) for accent fingers.
Makeup artist Daniel Sallstrom working with MAC, called out phrases like "not too pretty," "not a cat eye," "toughness," and grunge, making the makeup the exact opposite of the trending beauty looks currently on TikTok. Eyeliner styles ranged from punk-inspired rounded eyeliner in 70s colors to a straight, fuchsia, yellow, and white eyeliner that started at the inner corner. MAC Chromacake and MAC Acrylic Paint were used to give it almost a PVC like feel to the eyeliner, with lines as sharp as the tailored shoulders that Do favors (Sallstrom said, "like it's been cut with a knife."). The trick is to use Q-tips and a brush to fine tune the edges. He then traces the line starting from the inner corner. No foundation, mascara, blush, or concealer, kept the look "raw."
More from ELLE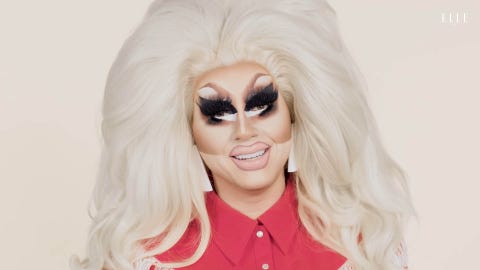 Hairstylist Jawara and Do looked at old runway shows and created a blend of hair concepts that were "cool, beautiful, chic." Models like Lineisy Montero and Dilone kept their curls, while others had their hair blown out straight with multiple Dysons, and the crown gelled liberally with visible comb rake marks (thanks to a blend of ​​Bumble and bumble. Curl Anti-Humidity Gel Oil and Bumble and bumble. Surf Spray – another 90s throwback product). Jawara said that the combination of the gel and the surf spray gave the hair a lot more grit. Jawara was also given a special jersey fabric that Do cut into black headbands with varying thicknesses for certain models. Some were tied with neat bows like shoelaces underneath low, but polished spiky buns, which Jawara laughably described as 90s knot but also "bird-nesty type things" that the team improvised and individualized for each model, and pinned with an array of bobby pins. Jawara's mood during one of the most anticipated New York Fashion Week shows is described as: "It feels nice, we will be fine." It feels like something new is happening. I'm not sure what it is yet. It feels good to have energy returning.

ELLE Beauty Director
Kathleen Hou is ELLE's Beauty Director. Kathleen Hou held the same role at New York Magazine's The Cut. She's appeared in publications such The New York Times Magazine: As New York, Vogue India, Forbes. Allure. She was a cofounder of Donate Beauty – a grassroots beauty project that started during the COVID-19 Crisis, and donated over 500 000 products to more than 30,000 healthcare staff in over 500 hospitals.