As someone passionate about beauty for as long as I can remember, I've always scoured the best beauty books to help me perfect my craft.
After years of trial and error and many mistakes along the way, I've put together a list of the best beauty books of all time.
This list contains everything, from classics and modern must-reads.
Whether you're just starting out or an experienced beauty enthusiast, these books will help you perfect your makeup, hair, and skincare routine.
So, let's dive in to see our picks!
1. Skincare Decoded: The Practical Guide to Beautiful Skin – Victoria Fu & Gloria Lu
What's the secret to beautiful skin? Microbiomes? Korean ice water
No matter your level of experience, skincare chemists Victoria Fu and Gloria Lu will explain everything you need to know about your skincare routine, even if you're just starting out.
From what ingredients you should look out for to the only four products you really need, they've got it all for you. This is a great read with pictures, humor, and fun facts.
2. The Big Book of Homemade Products for Your Skin, Health, and Home – Jan Berry
This book is the best guide for homemade beauty products made with local and natural ingredients.
Jan Berry's book contains 151 recipes for making your own household and body care products.
You'll learn how to make
Cucumber mint soap
Triple Sunshine Body Butter
Honey, rose & oat face wash
This book is full of easy-to-follow recipes and stunning photos that make going green a breeze.
3. Natural Beauty: 110 Organic Skin Care Formulas for Radiant You – Deborah Burnes
If you want to use homemade and eco-friendly skincare products instead of toxic ones marketed as ' all natural', then read on.
Deborah Burnes also explains what each ingredient is for and where you can get it. These ingredients can be used to create natural beauty products such as Argan Oil and Honey cleanser.
A beautifully written DIY beauty guide.
4. Beauty: The Invisible Embrace – John O'Donohue
Music, love, imperfection, death, and desire are some of the ways O'Donohue explores how beauty manifests itself in our lives. "Celebrate your intimacy with the beauty," he says.
By drawing on the philosophers of beauty like Plato and Aquinas, O'Donohue quotes poets across cultures and centuries. According to him, beauty is what inspires creativity and passion, especially during these uncertain times.
This book is for beauty philosophy fans.
5. Milady Standard Esthetics: Fundamentals – Milady
If you're an esthetics student, this book will give you a better understanding of the fundamentals.
It is important to understand the basics of skincare, including history, anatomy, physiology and more.
You'll then get a chance to learn hands-on skills like facial treatments, hair removals, and how to use salon technology.
Check out this classic for a true taste of esthetics.
6. DIY Beauty – Ina De Clercq
From Sephora's face scrubs to The Body Shop's body butter, you can make some of the world's most popular beauty products yourself with this book.
Ina De Clercq's eczema made her look for allergy-friendly, all-natural products. Then, she created inexpensive imitation recipes for popular products like Burt's Bees lip balm and e.l.f. Acne treatments.
You'll love this book if you love DIY and want to customize your favorite skincare products.
7. Your Beauty Mark: The Ultimate Guide to Eccentric Glamour – Dita Von Tees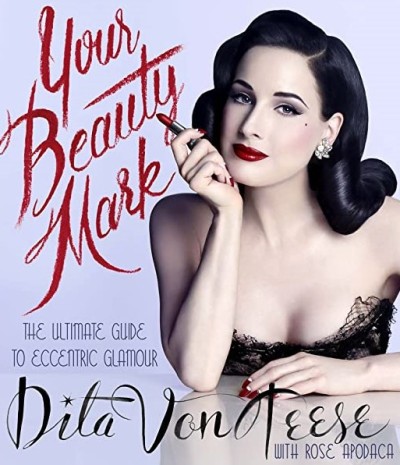 Dita Von Tease is probably the best person to talk about glamour. She's a fashionista and burlesque superwoman.
In the book, she discusses every aspect of beauty from perfectly coiffed locks to pedicured toes. Her tips include customizing your baths over time and getting enough beauty rest.
Laden is a great beauty book that includes hundreds of photos and step-by-step instructions.
8. French Chic Beauty: The French Beauty Bible – Veronique Blanchard
The best French beauty book, The Insider Secrets of Veronique Blanchard, gives you access to 'insider secrets' she picked up growing up in France.
What you'll most take away from this book is how to form a beauty regime. Inspired by her mother's lifestyle, Blanchard teaches you how to:
Let your inner beauty shine
Plan your own beauty regime
Enjoy beautiful hair and skin
Keep your nails in good condition
Keep a stylish wardrobe
An engaging, short read that's straight to the point.
9. The Beauty Industry Survival Guide: A Salon Professional's Handbook – Tina Alberino
Tired of generic advice on the beauty business? Tina Alberino is here to give you the lowdown on the beauty business, plus hard lessons you'll learn along the way.
With his no-nonsense approach as a veteran cosmetologist, Alberino teaches you practical skills you won't find in textbooks.
She advises:
Salon owners who cheat on their customers: What to do?
Growing a clientele that is loyal.
Make it big before you finish your education
Among the best beauty business books published, there's much to learn, entertain, and amaze.
10. The Compassionate Chick's Guide to DIY Beauty – Sunny Subramanian & Chrystle Fiedler
Once you've finished the first two chapters of this book, you'll probably want to switch to DIY beauty products and go vegan.
You'll learn how to make your own beauty products with simple vegan ingredients and simple equipment.
Here's how to take care of your skin the right way, make everything from mascara to lipstick with natural ingredients, and choose the right ingredients.
Definitely, one of the best natural beauty books you'll ever read.
11. Clean: The New Science of Skin – James Hamblin
You could be harming your skin by misinterpreting what you think is clean and how to care for it. Dr. Hamblin is a preventive medicine specialist who explains why, five years ago, he stopped taking showers and now only uses soap to wash his hands.
With the help of skincare experts, armed with facts, wit and humor, he explains how skin functions and how cleaning agents work.
It's one of the best clean beauty books out there, and it'll change how you look at things.
12. Timeless: Recreate the Classic Makeup and Hairstyles from 100 Years of Beauty – Louise Young & Loulia Shepp
You can recreate iconic hairstyles and makeup styles from the past with help from Loulia, an Academy Award-winning hairstylist and Louise Young, a superstar makeup artist.
With clear, concise, and illustrated instructions, you'll learn how to replicate the disco-fever beauty to the electric colors of the 80s and beyond.
A vintage beauty book you'll appreciate for its accuracy, practicality, and easy-to-follow instructions.
13. The Skincare Bible: Your No-Nonsense Guide to Great Skin – Anjali Mahto
Anjali Mahto is a dermatologist based in the UK who guides you through contradictory information. She makes sense of skin care issues.
The book tackles acne, dryness, rosacea as well as aging. You'll learn to choose the best products and routines based on your unique skin type.
Here is your guide to beautiful skin.
14. Korean Skincare Bible: The ultimate guide to K-beauty secrets – Sara Jimenez, Lilin Yang & Leah Ganse
It's the perfect book for someone new to cosmetics or trying to solve troublesome skin problems.
Korean beauty experts teach you all about their products, natural ingredients, history, and Korean beauty.
Learn to make your beauty products at home for healthier and more radiant skin.
It's one of the best Korean beauty books for its straightforward and tried-and-true advice.
15. Bobbi Brown Teenage Beauty – Bobbi Brown & Annemarie Iverson
This guide is a great resource for young girls who are dealing with insecurities during their emotional teenage years.
With Brown's timeless advice, appreciate your beauty and navigate common teenage skincare problems.
Bobbi Brown's must-read book for teenage girls covers everything from dealing with zits to choosing makeup.
16. The Beauty Geek's Guide to Skin Care: 1,000 Essential Definitions of Common Product Ingredients – Deborah Burnes
Next time you're at a drugstore or a spa boutique, you'll be able to choose beauty products with confidence—all thanks to Deborah Burnes.
This book tells you:
The origin, uses and health benefits of 1000 ingredients
Standard beauty habits for flawless skin
Simple DIY recipes to make products such as cleansers and toners.
This is a must-read guide for anyone who loves skincare.
17. I On Beauty: Living Beautifully and Luxuriously Beyond – Irene Michaels
In this best-selling book, Irene Michaels shares her secrets for caring for your hair and skin in a natural and safe way.
Michaels discusses the organic and cheap treatments you can do at home.
Authentic and perfect for anti-aging product lovers, the 11-chapter book has everything you'll need to know.
18. The Makeup Manual: Your beauty guide for brows, eyes, skin, lips and more – Lisa Potter-Dixon
Lisa Potter-Dixon is a regular at London Fashion Week Scene. She can help you achieve the perfect red lips or a new makeup look.
Every age group should read this book – it's all about beauty and skincare, so you can look your best. From feathers to sequins, it's got it all.
The ultimate makeup guide with tips and instructors.
19. The Atlas of Beauty: Women of the World in 500 Portraits – Mihaela Noroc
This book from Noroc is a collection of beautiful photos and stories from over 50 countries.
These portraits of women are taken in the Amazon rain forest, India's bustling markets and the Amazon. There's beauty everywhere in this collection, exhibiting the diversity of women.
This book contains inspirational and motivational stories. It is a great gift for anyone who loves beauty.
20. Plant-Powered Beauty – Amy Galper & Christina Daigneault
Let it be your go-to book if you've always wanted to test out plant-based skincare products.
This book is all about making your own beauty products.
Anti-aging Facial scrub
Choc-o Mint Lip Balm
Coconut whip is a makeup remover that can be used for many other things.
The best plant-based beauty book on the market, it's a must-read for anyone looking to replace synthetic chemicals with plant essences.
21. Staging Your Comeback: A Complete Beauty Revival for Women Over 45 – Christopher Hopkins
He's known as the 'Makeover Guy' from Oprah, Hopkins offers tips and tricks to help women over 45 look and feel fabulous.
Hopkins discusses everything
Gray hair: How to care for it
Myths of aging
Styles that suit you best
Second Act Ground Rules
To get the most from your book, you should make long-term adjustments and stick with them.
This book gives you the confidence that you need to face life after 45.
22. Making Faces – Kevyn Aucoin
For anyone curious about makeup, Kevyn Aucoin's iconic Making Faces is a great read.
The book has timeless techniques, and Aucoin's guidelines can be adapted to fit any beauty regimen.
While flipping through the pages of this illuminating makeup guide, you'll become immersed in the lives of models and celebrities.
23. Pretty Iconic: A Personal Look at the Beauty Products that Changed the World – Sali Hughes
This 400-plus page book puts together Sali Hughes' knowledge of the most iconic beauty products from her years as a makeup artist.
From Chanel No 5 to Urban Decay's Naked Palette, Hughes covers an array of products. She often shares personal or historical anecdotes when she reviews her own products.
This book, written by one of Britain's top beauty writers, is a goldmine of beauty information.
24. Eat Pretty: Nutrition for Beauty, Inside, and Out – Jolene Hart
Eat Pretty is a must-read for anyone who wants to feel great and look good throughout the year.
Jolene Hart is a beauty and nutrition specialist who decodes nutrition and science jargon with a simple and clear style.
This book contains a wealth of everyday foods, their benefits for beauty and how they change with the seasons.
This beauty book is the perfect gift.
25. Babushka's Beauty Secrets: Old World Tips for a Glamorous New You – Raisa Ruder & Susan Campos
Raisa Ruder, esthetician for Hollywood celebrities, shares beauty recipes that her Ukrainian grandmother inspired her to use to plump lips and fade wrinkles.
You'll love this book if you don't want to blow your budget on skincare and beauty products.
Ruder tells you about:
Skin-saving souffles
Foot scrub made with mint and milk
Castor oil serum for thicker and longer lashes and more
This book is a great resource for modern women who have many beauty issues.
What beauty books can do for you…
Beauty books provide a wealth of information on how to achieve the perfect look. They can be used for a natural, fresh-faced look or if you prefer sultry and dramatic. These books include step-by-step instructions for different makeup and skincare regimens as well as product recommendations.
Beauty books not only guide you, but also provide insight into the science behind the products and ingredients. You'll gain an understanding of what works best for your skin type, and how to tailor your routine to suit your needs.
Beauty books do not only cover makeup and skincare. You can find books on haircare, nail care, and fashion. No matter what level you're at, there's always something new to learn when it comes to beauty.
The Takeaway
From fashion icons to beauty products, these best beauty books will enrich your knowledge of the art of beauty and deepen your understanding of the dos and don'ts.
There's something for readers of all ages, lifestyles, and experience levels to learn and apply.
Whether it's how to make your own beauty products, how to stick to a healthy diet, or how to deal with the emotions that accompany beauty problems, these books have it all.
What are you still waiting for? Choose one and start reading!