Women who are concerned about their wardrobe can find it difficult to travel.
You've got to pack, get ready, and do your hair. Then there's the worry that your clothes won't fit your trip, that they'll wrinkle, or that they'll get dirty.
Women need to bring everything, from sunscreen and toiletries to jewelry, while men only need to bring a charger.
With our list, you can easily create a packing list for the fashion-conscious woman.
1. The Right Shoes
When you're on the move, you need shoes that provide comfort and protection. Travel shoes should be lightweight, comfortable and resistant to all weather conditions. They should also be lightweight and easy to pack.
What shoes should you wear when traveling?
Sneakers
Runners
Sandals
Flipflops
2. Scarfs that are stylish
Traveling with a bulky, big piece of fabric isn't for you? Do you like the look of wearing a scarf but dislike carrying one?
Try a travel scarve! They are not only small and light, but also versatile, comfortable and can be used as a blanket in cold weather. If you want to be stylish on the road, consider investing in a travel wrap!
3. The Portable Charger
A portable charger charges your phone as well as holding it. You will usually receive a battery and a cable.
The small portable devices allow you to charge your electronic devices while on the move, so that you can spend more time exploring instead of searching for outlets.
4. Ray-bans
You won't regret packing a pair of Ray-Ban sunglasses, whether you want to stay cool in the summer heat or just add a little flair to your outfit. You'll appreciate their durability and style, and they will make a great addition to your travel wardrobe.
5. Aluminum Carry-On
If you want to travel light, an aluminum carry-on is the perfect choice. Aluminum is a great choice for fashionistas looking to make their accessories last. It's strong, beautiful, and durable.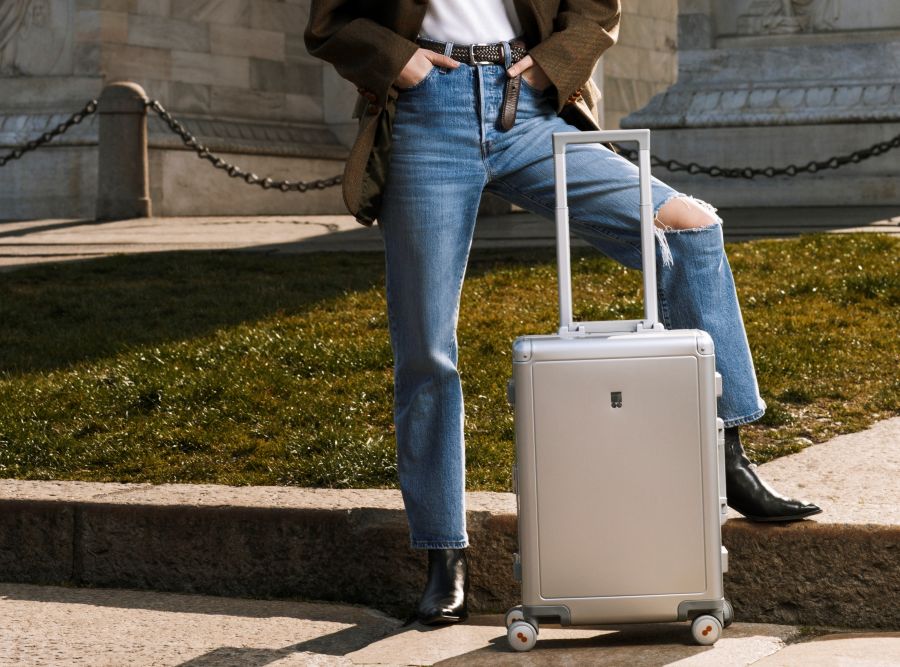 The Level8 carry-on bag has a 36 liter capacity, which makes it perfect for traveling. It is durable and reduces luggage. A TSA approved lock will ensure that your items are safe. Use the code beautyholic10 for 10% off.
6. Compression Socks
Your body can suffer if you sit for long periods of time or lug heavy luggage. Your lower limbs are particularly vulnerable.
Compression socks can help alleviate swelling and bruising in your legs and feet, especially if you're prone to them.
They are comfortable and warm enough to wear while driving, flying or walking around the town. The high-quality materials keep your feet warm and comfortable.
7. Face Mask
Masks started as a way to shield us from COVID-19, but now they're a fashion statement.
Masks come in all shapes and sizes, from simple solid colors to tribal masks with multi-colored designs. Face masks are in style again, but they're not just for Halloween.
8. Collapsible Water Bottle
A collapsible hydration bottle is a great tool for long-distance travel. They can be compactly carried because they fold flat. Also, it's easy to take with you on your shopping trips. The pop-up design also makes it easier to carry around bags, backpacks or suitcases.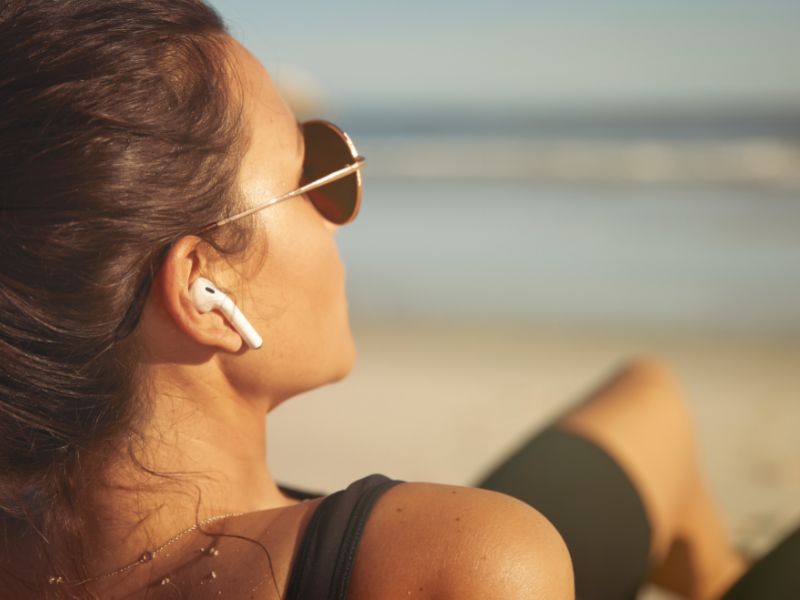 9. Airpods
If you travel often, you know the struggles: you don't want to carry too much luggage, but at the same time, it isn't fun to be listening to your phone the entire flight.
Wearing AirPods isn't noticeable since they're stylish, light, and don't get in the way. Moreover, their small size allows them to fit into any bag, making them ideal on-the-go women's travel accessories.
10. Silk Sleep Mask
Silk sleep masks make up a large part of the travel accessories that are most in demand. After all, who hasn't experienced the discomfort of trying to go to sleep on a noisy plane ride? Or how about the harsh sun's rays as you attempt to catch some zzz's when vacationing outdoors?
With silk sleepmasks, you will be able to combat both problems and also boost your fashion quotient.
11. Clear Toiletry bag
If you travel frequently, then you know just how useful a toiletry bag with a good selection of items can be. Clear toiletry bags aren't just visually appealing—they make it easy to find what you're looking for too. It looks great when you carry it, and it keeps your toiletries organized.
12. Bamboo Toothbrush
Bamboo toothbrushes make great travel accessories when you're looking to reduce your carbon foot print. The toothbrush is small, light, and easy to pack. It keeps your mouth and teeth fresh. Plus, bamboo is an eco-friendly material, so you're helping the environment while you brush!
13. Full-Zip Hoodie
You want to look good while you stay warm? The full-zip hoodies will keep you warm on cooler days. Pull the hood on your head, blocking the wind. This extra layer of fabric keeps you warm in cold weather. Also, they're versatile enough to work with whatever you have in your suitcase.
14. Packing cubes
Packing cubes make packing easier. You can separate your travel essentials from your other clothes, so you can pack more—so you'll have a quicker time packing and unpacking when you arrive. This simple travel accessory holds your clothes, shoes and toiletries.
15. Safari Hat
Safari hats are a popular choice for traveling. They keep you cool and shield you from the sun. A safari hat can be very useful in the event of a sudden downpour.
You can wear the hat in many different settings including museums, restaurants and even at a safari park.
16. Polaroid Instant Camera
Sometimes, a trip away calls for instant photos, especially if you're traveling with friends. If you're planning on taking a trip, there's no need to miss out on the fun of snapping some great photos using your Polaroid Instant Camera.
The Polaroid Instant Camera offers a great option for those who like retro camera effects, or just want to take photos without having to carry around a heavy DSLR.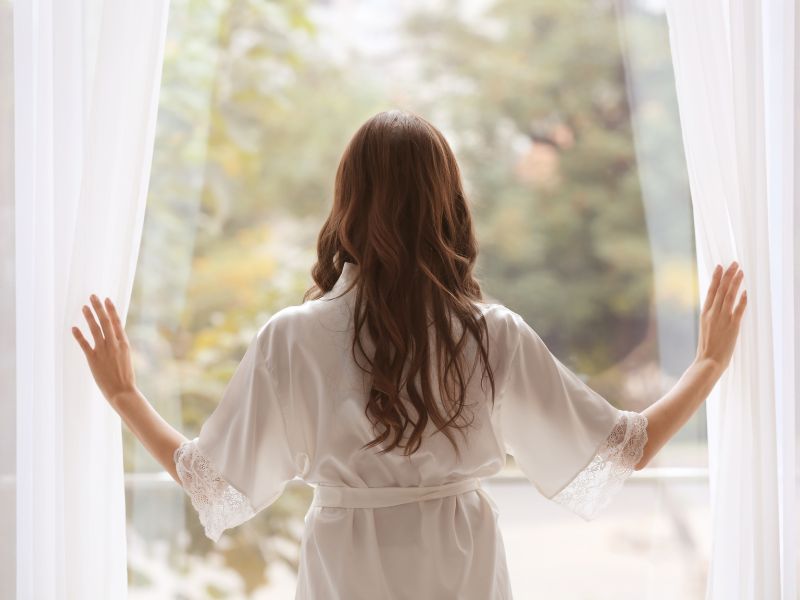 17. Washable Silk Robe
Travel experts highly recommend silk—it's lightweight, soft, and versatile.
Silk robes provide comfort and are easy to care for. Hand-washing them with mild soap and warm water is all that's needed.
What's more, silk is naturally stain-resistant and wrinkle-free, so you can travel worry-free with your silk robe.
18. Jewelry Storage Organizer
Your jewelry will look great wherever you are with a well-organized organizer. The perfect way to store rings, necklaces, and bracelets while you're away or traveling. The compact cases can hold a large amount of jewelry in a safe manner, and they are small enough to fit into your carry-on.
19. Eye Mask
Eye masks are the perfect travel accessory for women who are always on the move. It makes traveling more comfortable by blocking out light and sound. Eye masks are a great way to protect the eyes from harmful sunlight and air pollutants that can cause fatigue and irritation. On top of that, they're great for long flights and car rides.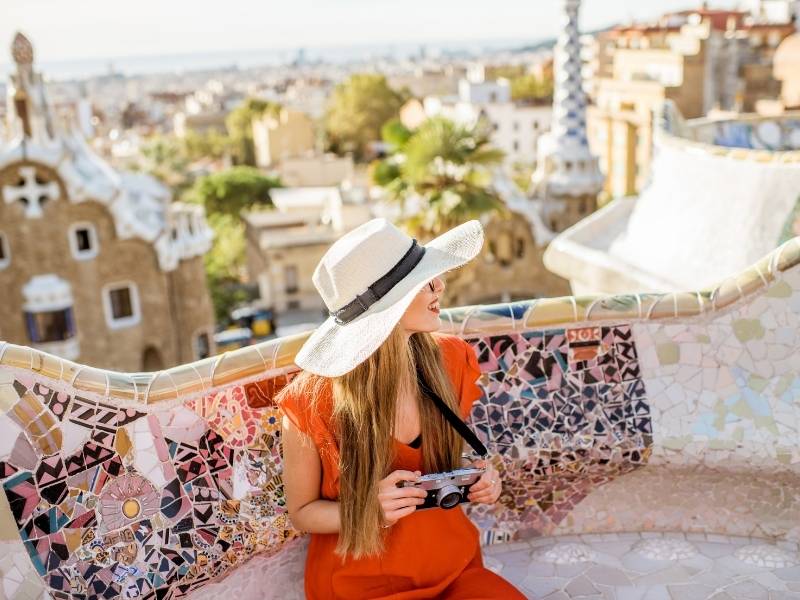 Why is travel gear so important?
What about accessories? Fashion accessories have a major impact on appearance and mood while traveling.
Here are some of the reasons:
While on vacation, they can help you to look more confident and polished.
Accessorize your outfit to suit the climate.
You can reduce the amount of luggage that you bring by using them.
Accessorizing allows you to showcase your personality when traveling and can make you stand out amongst the crowds in tourist attractions.
Accessories such as sunglasses and hats can provide protection from the sun and wind.
When Traveling, Here Are Some Things You Shouldn't Forget!
The following are some essentials that every woman should take on a trip. What to bring on your trip is listed below:
1. Crossbody bags and backpacks can hold all your essentials when you're on the go. Make sure it's big enough to hold everything you need, but not so big that it's hard to carry.
2. Sunscreen and sunglasses should be worn when you're at the beach or on a sunny excursion. When packing, take into account your destination's climate.
3. For long excursions or hikes, it is important to wear comfortable clothing and shoes. Pack clothes that keep you cool and wear shoes that can handle any terrain.
4. Bring an extra memory card and a camera. A camera with good video and pictures is needed, as well as an extra memory if you run out of space on your phone.
5. Always carry a small first-aid kit. As you plan your vacation, ensure you have all the necessary items and that everything is in order.
6. An insect repellent. Bring insect repellent when traveling. Use repellents containing DEET to protect yourself from mosquitoes, and other insects.
Bottom line
Travel accessories for women are essential to a successful trip.
No matter what you're looking for – whether a bag to carry your belongings, a comfortable pair of shoes, or something to keep you entertained on the plane – there's something for you.
Stop waiting and shop for your perfect travel accessories now.